EXPED Size Guide
EXPED Size Guide
MAT SIZES/PROFILES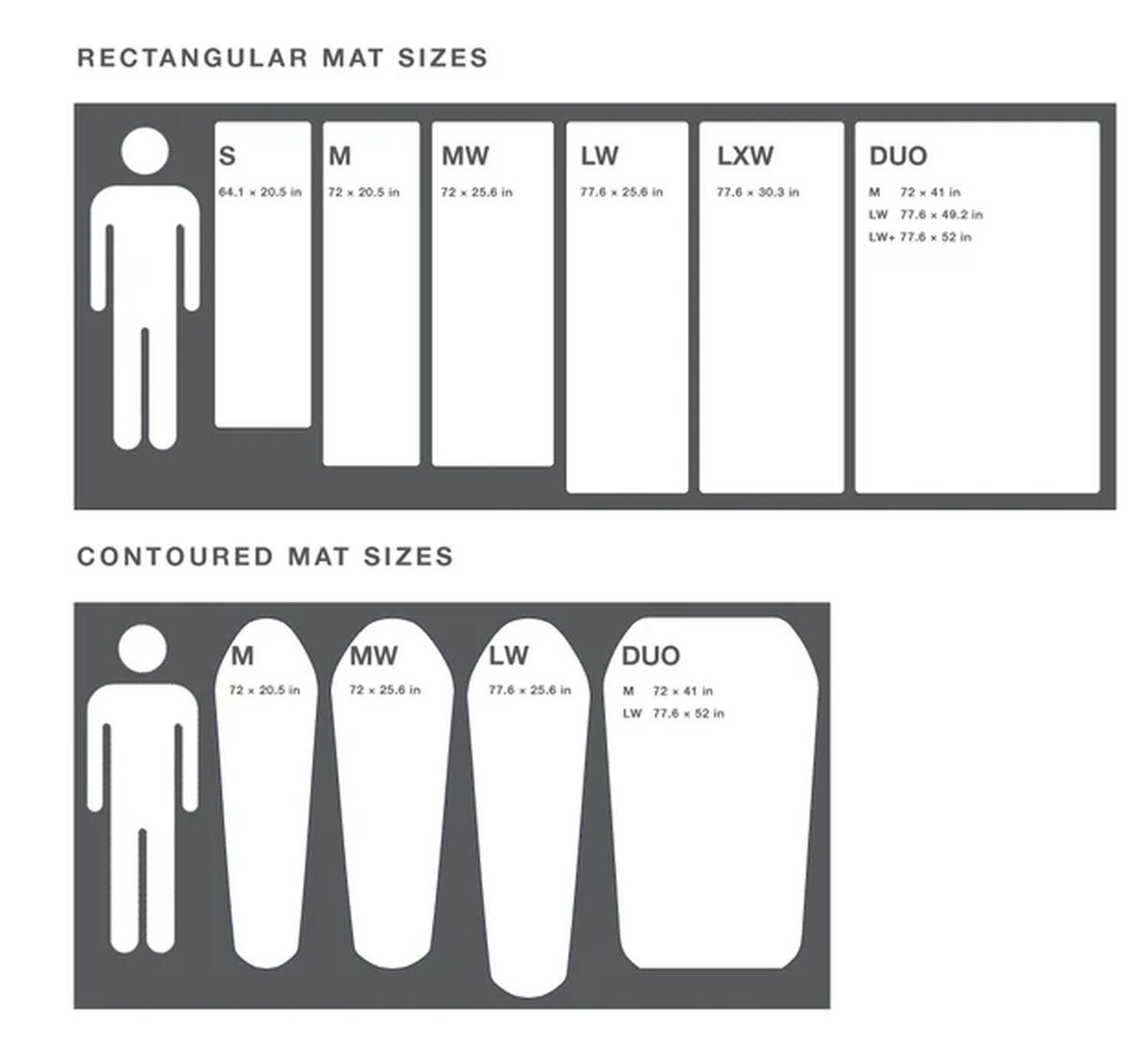 FOOTWEAR SIZES (US sizing shown):
S - Men 5 - 6.5; Women 6 - 8
M - Men 7 - 9; Women 8.5 - 10.5
L - Men 9.5 - 11; Women 11 - 13
XL - Men 11.5 - 12.5
BACKPACK/TORSO LENGTH SIZES
Depending on pack volume and intended use the suspension system of a backpack becomes an essential feature. Defining torso length is not necessarily critical on a daypack but crucial on backpacking or alpine touring packs, as only perfect fit can warrant transfer of a bulk of the pack weight to the hips.

The center of the hipbelt ideally rests on the hip bone crest (pelvis) in order to bear the bulk of the load (refer to diagram) especially on large internal frame backpacks. But no rule without exceptions and sometimes a shorter torso length is better, for example in alpine or mountaineering situations where a short back allows easy access to the climbing harness.

How to measure torso length:
Use a measuring tape to measure the distance between the top edge of the shoulders or C7 vertebrae (the one that protrudes when facing down) to the top crest of the hip bone (pelvis).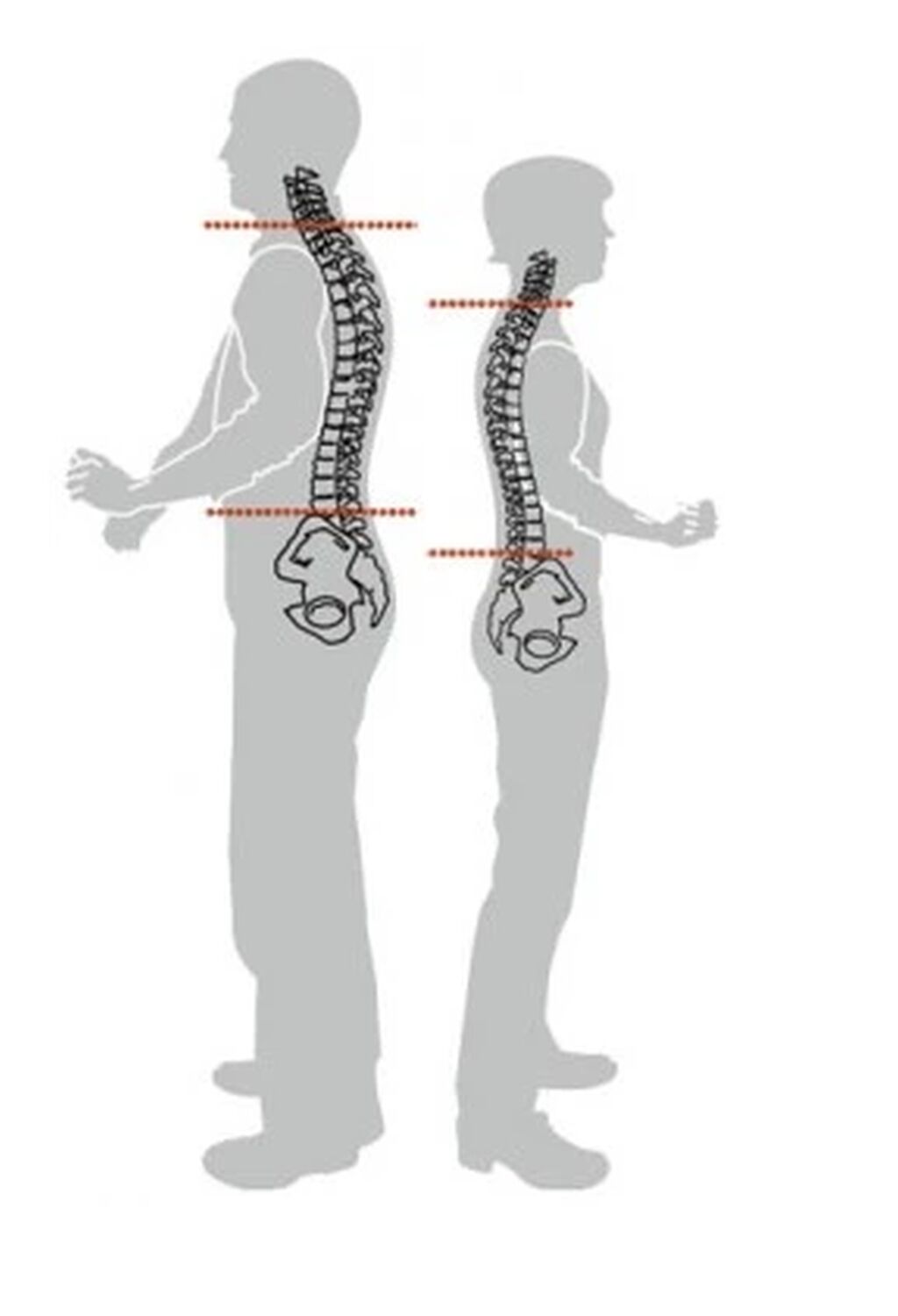 Backpack Suspension Size Ranges:
Medium (M) = 19 - 20.5 in / 48 - 52 cm
Long (L) = 21 - 23 in / 53 - 58 cm
Note: Even the most elaborate suspension system can only work perfectly when fitted correctly! And as no two backs are identical, we recommend testing backpacks with sample weights in an outdoor specialty shop.
SLEEPING BAG SIZES AND FIT
We offer different cuts, lengths and widths in our sleeping bags to accommodate most body shapes and sizes. Sleeping bag length EXPED sleeping bags are sized slightly longer to provide adequate space in the foot box: Standard sleeping bags:
S = 67 in.
M = 71 in.
L = 77 in.
XL = 83 in.
MegaSleep bags (Single and Duo):
M = 78.7 in
L = 82.7 in
Sleeping bag shoulder width (excluding MegaSleep) EXPED designs its sleeping bags with three different widths, depending on the activity/needs of the user:
Standard fit: 31 in. at shoulder
Wide fit: 35 in. at shoulder
Slim fit: 29 in. at shoulder
Standard Contours the body with enough space in the lower section to allow bending of the knees and enough space in the upper section to move.
Wide Cut for those who prefer the highest possible freedom of movement during sleep. It's also a great option for stomach sleepers.
Slim This body-hugging width is designed to save as much weight as possible without sacrificing comfort.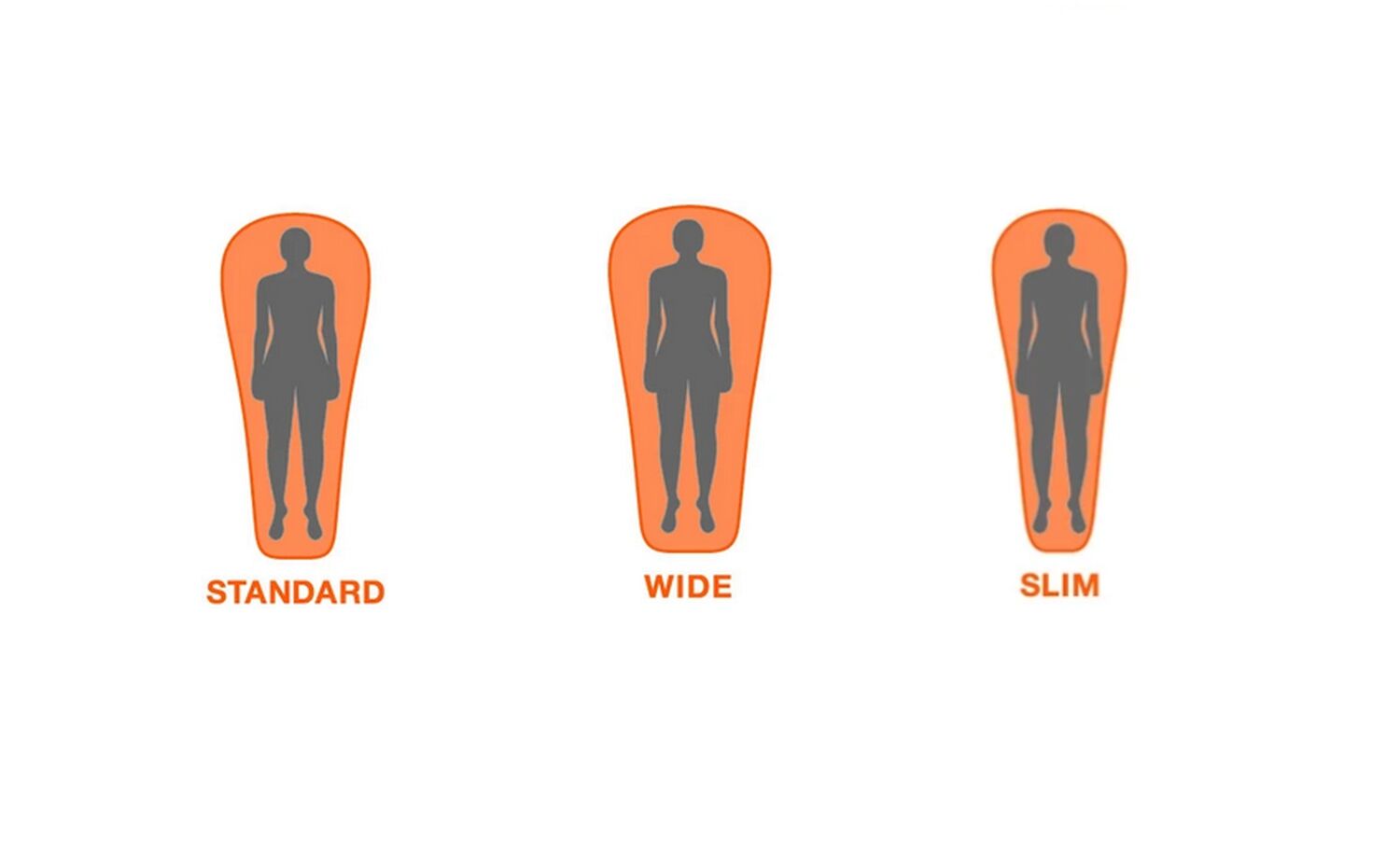 Note: We highly recommend trying out the sleeping bag for width and length before purchasing in order to determine the proper sleeping bag size.
STORAGE DRYBAG SIZES
Fold Drybag BS, UL and First Aid
XXS
Volume: 1 liter
Dimensions (closed): 6.3 × 5.5 × 2.8 in
Weight: 0.7 oz
XS
Volume: 3 liters
Dimensions (closed): 9.8 × 5.9 × 3.9 in
Weight: 1.1 oz
S
Volume: 5 liters
Dimensions (closed): 12.2 × 6.7 × 4.7 in
M
Volume: 8 liters
Dimensions (closed): 13.8 × 7.5 × 5.5 in
L
Volume: 13 liters
Dimensions (closed): 17.3 × 9.1 × 6.3 in
XL
Volume: 22 liters
Dimensions (closed): 20.1 × 10.2 × 7.5 in
XXL
Volume: 40 liters
Dimensions (closed): 22 × 14.6 × 9.4 in

Waterproof Compression Bag and Telecompression Bag
S
Volume: 13 liters
Dimensions (closed): 16.5 × 7.9 in
M
Volume: 19 liters
Dimensions (closed): 20.5 × 8.7 in
L
Volume: 36 liters
Dimensions (closed): 25.6 × 11 in