Payment

If payment is made using a credit card (VISA, MasterCard), your credit card account is debited in conjunction with the shipping of the goods. We only would have charged your credit card account with start of shipment.
Payment process
Select "credit card" as payment method in the checkout process.
After confirming the order, you will be redirected to enter your credit card details.
Please enter your card number, security code and expiration date and complete the payment.
Once you have placed your order, the billing amount will be reserved on your credit card and you will receive an order confirmation email.
We will charge your credit card once we ship your order.
With ordering only a "pre authorization" (reservation) of the amount has taken place.
payment by credit card (Sure we recommend this payment, the transfer is performed at earliest when the goods are being dispatched.
Security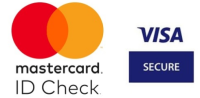 We use MasterCard ID check / Secure Code and VISA Secure for your protection.

Link Mastercard SecureCode

Link FAQ SecureCode


Q: I'm a consumer. What is Mastercard SecureCode?
A: Mastercard SecureCode is a service to enhance your existing Mastercard credit card or debit card and gives you an additional layer of security that protects you against unauthorised use of your card when you shop at participating online retailers. This service is provided by your card issuing bank.


Q: How does Mastercard SecureCode work?
A: SecureCode works with your existing Mastercard account and it is easy to use. SecureCode protects against unauthorised use of your card when you shop online. Look for the SecureCode logo at participating retailers.
When you make a purchase at a participating SecureCode retailer, during the check out process you may be prompted by your card issuer to identify yourself to ensure you are the person making the transaction. You may receive an one-time code via text message or some other method. This information is not shared with the retailer, it is between you and your card issuer. Check with your card issuing financial institution to participate in SecureCode. They will provide you with the information needed to identify yourself during the purchase.

Q: How do I know whether a retailer participates in SecureCode?
A: Many participating online retailers display the SecureCode brand mark. When you make a purchase at a participating retailer, during the check out process you may be prompted by your card issuer to identify yourself to ensure you are the person making the transaction. This information is not shared with the retailer, it is between you and your card issuer.

Q: What should I do if I am experiencing any problems?
A: If you are experiencing problems with SecureCode please contact your Financial Institution